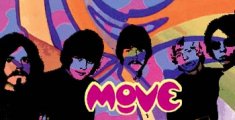 THE MOVE
Britská skupina přelomu 60. a 70. let spojená zejména se jmény Jeffa Lynna, Roye Wooda a Beva Bevana
---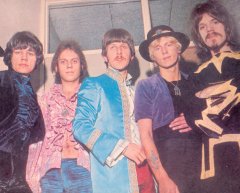 Historie
Po rozpadu skupiny Mike Sheridan & The Nightriders v lednu 1966 její rozštěpení dalo vzniknout nové skupině - The Move, zformované kytaristou Royem Woodem spolu s s dalšími ex-členy z dalších Biminghamských skupin: Carl Wayne (vocals), Trevor Burton (bass), Ace Kefford (gitar) a Bev Bevan (bass). Obr. Classic Move 1967 - Bevan, Burton, Wayne, Kefford, Wood

Obsazení skupiny The Move v průběhu let 1966 - 1972:

First Line-up (1966-68):
Second Line-up (1968-69):
Third Line-up (1969-70):
Fourth Line-up (1971-72):
Roy Wood, Bev Bevan, Carl Wayne, Trevor Burton, Ace Kefford
Roy Wood, Bev Bevan, Carl Wayne, Trevor Burton, Rick Price
Roy Wood, Bev Bevan, Jeff Lynne, Rick Price
Roy Wood, Bev Bevan, Jeff Lynne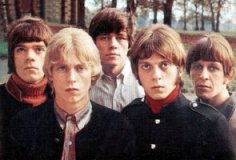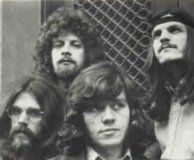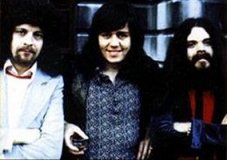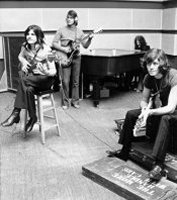 The Move byli daleko populárnější než Idle Race a vydali řadu alb. Z nich jsou zde vybrány LP základní řady. Další skladby skupiny The Move, které nejsou na těchto albech, jsou sebrány pod fiktivním "The Move Others" a nakonec výběr 10 skladeb z CD "The BBC Sessions" (kompletní diskografie viz níže):

Prvním členem, který skupinu opustil, byl Ace Kefford (gitar) v r. 1968. V roce 1969 pak Trevora Burtona nahradil Rick Price (bass). V roce 1970 opouští skupinu Carl Wayne a startuje vlastní kabaretní program. V témže roce v lednu přichází Jeff Lynne. Jeho první písní je skladba "What?" na třetím albu skupiny a od tohoto okamžiku každým dnem roste Lynnův vliv ve skupině a Roy Wood již není jediným neomezeným lídrem skupiny...

Další album skupiny The Move s názvem "Message from the country" (1972) obsahovalo překrásné Lynnovy songy "The Minister", "Words of Aaron" a titulní skladbu "Message from the country". Po vydání alba skupinu opouští Rick Price a The Move má od této chvíle pouze tři členy: Roye Wooda, Jeffa Lynna a Beva Bevana.

Na konci r. 1971 pak byl odstartován prujekt "The Electric Light Orchestra" (ELO). To byl Jeffův sen vytvořit skupinu, která by hrála kombinaci symfonické a rockové hudby.

V roce 1972 The Move ještě skórovali hity "California Man" (Wood) a "Do Ya" (Lynne). The Move ještě nějaký čas koexistovali s ELO, ale brzy veškerá pozornos Jeffa již byla určena jen pro jeho nový projekt ELO.

---

Singly:

 Night of Fear ..............(5th January 1967)...(DERAM DM 109).................2  
 I Can Hear the Grass Grow...(6th April 1967).....(DERAM DM 117).................5  
 Flowers in the Rain.........(6th September 1967).(Regal Zonphone RZ 3001).......2  
 Cherry Blossom Clinic.......(Cancelled)..........(Regal Zonophone).............--  
 Fire Brigade................(7th February 1968)..(Regal Zonophone RZ 3005)......3  
 Wild Tiger Woman............(--- July 1968)......(Regal Zonophone RZ 3012).....--  
 Something Else by the Move..(--- September 1968).(Regal Zonophone TRZ2001).....22  
 Blackberry Way..............(25th December 1968).(Regal Zonophone RZ 3015)......1  
 Curly.......................(23rd July 1969).....(Regal Zonophone RZ3021)......12  
 Brontosaurus................(25th April 1970)....(Regal Zonophone RZ3026).......7  
 When Alice comes back.......(--- September 1970).(FLY BUG 2)...................--  
 Ella James..................(Unissued)...........(Harvest HAR 5036)............--  
 Tonight.....................(3rd July 1971)......(Harvest HAR 5038)............11  
 Chinatown...................(23rd October 1971)..(Harvest HAR 5043)............23  
 F.Brigade/Grass/Night Fear..(--- March 1972).....(FLY Echo 104)................--   
 California Man..............(13th May 1972)......(Harvest HAR 5050).............7  
 Do Ya.......................(--- September 1974).(Harvest HAR 5086)............--  
 Flowers in the Rain/B.Way...(October 1979).......(CUBE BUG 85).................--  
 Blackberry/Brontosaurus.....(July 1982)..........(OLD GOLD OG 9227)............--  
 Night of Fear/Grass Grow....(July 1982)..........(OLD GOLD OG 9228)............--  
 Night of Fear/Fire Brigade..(August 1982)........(DAKOTA BAK 7)................--  
 Flowers in Rain/Bronto'.....(August 1982)........(DAKOTA BAK 8)................--  
 Blackberry Way/Grass Grow...(August 1982)........(DAKOTA BAK 9)................--  
 Grass/Flowers/Fire/B.Way....(October 1986).......(ARCHIVE 4 TOF111)(12 LTD EDT)--  
 Flowers in Rain/Fire Brg'...(March 1990).........(OLD GOLD OG 9226)............--  

LP:

 Move........................(13th April 1968)....(Regal Zonophone SLRZ 1002)...15 
 Shazam......................(--- February 1970)..(Regal Zonophone SLRZ 1012)...-- 
 Looking On..................(--- December 1970)..(FLY Fly 1)...................-- 
 Best of the Move............(--- July 1971)......(FLY Ton 3)...................-- 
 Message from the Country....(--- July 1971)......(Harvest SHSP 4013)...........-- 
 Fire Brigade-The Move.......(--- July 1972)......(MFP 5276)....................-- 
 Roy Wood & The Move.........(--- July 1974)......(MFP 50158)...................-- 
 California Man..............(--- October 1974)...(Harvest SHSP 4035)...........-- 
 The Move/Shazam.(2 LP's)....(--- March 1978).....(CUBE Toofa5/6)...............-- 
 The Greatest Hits Vol 1.....(--- May 1978).......(PICKWICK SHM 952)............-- 
 Shines On...................(--- September 1979).(Harvest SHSM 2029)...........-- 
 Platinum Collection(2 LP's).(--- October 1981)...(CUBE Plat 1001)..............-- 
 Off the Record....(2 LP's)..(--- November 1984)..(Sierra FEDD 1005)............-- 
 The Collection....(2 LP's)..(--- July 1986)......(Castle CCSLP 135)............-- 
 Knightriding................(--- July 1988)......(Knight KNLP 10011)...........-- 
 The Best of the Move........(--- February 1991)..(Music Club MCCD 009).........-- 
 The Early Years.............(--- November 1992)..(DOJO Earld 7)................-- 
 The Best of the Move........(--- September 1993).(A & M CD3625) US Only........--  
 The BBC Sessions............(--- ---- 1995)......(Band of Joy BOJCD011)........-- 
 Movements.(3 CD's)..........(--- ---- 1999)......(West Side WESX302)...........-- 
 The Complete Singles Coll'..(4th January 2000)...(Crimson CRIMCD233)...........-- 

---
Birmingham Main



---