Electric Light Orchestra
Part II
---
Home | Diskografie | Galerie | FOTO
ELO PART II | ELO's Greatest Hits Live | Moment Of Truth | One Night Live In Australia
---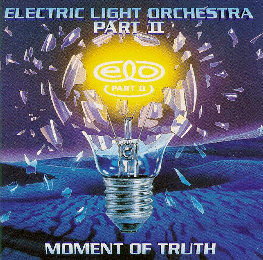 ---
| | | |
| --- | --- | --- |
| Bev Bevan | Mik Kaminski | Kelly Grocutt |
| Louis Clark | Eric Troyer | Phil Bates |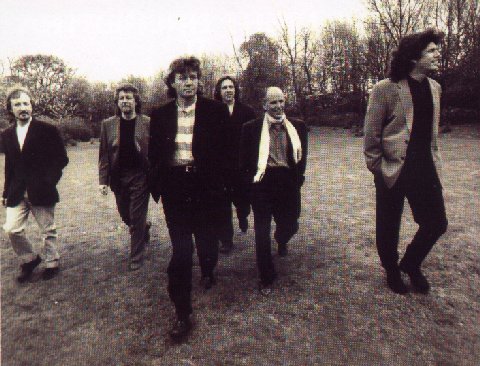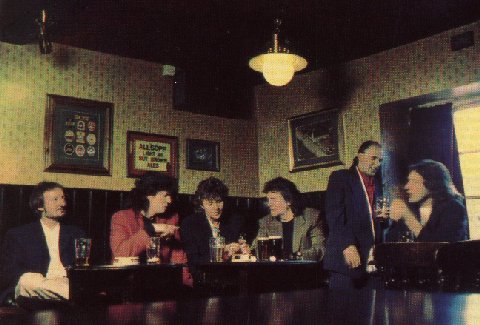 ---
Electric Light Orchestra Part II:

Bev Bevan: Drums

Mik Kaminski: Violin

Louis Clark: Orchestral Keyboards and Orchestral Arrangements

Kelly Groucutt: Bass and Vocals

Eric Troyer: Keyboards and Vocals

Phil Bates: Guitar and Vocals

Additonal Musicians:
Percussion: Hossam Ramzy
Strings: The London Session Orchestra
Leader: Gavyn Wright
Album produced and engineered by Stephan Galfas.
Recorded at:
Carriage House Studios, Stamford, Connecticut.USA
Assistant Engineers: Phil Magnotti, Johnny Montagnese
Great Linford Manor Recording Studios, Milton Keynes, England.
Engineer: Andy Griffin
Assistant Engineer: Simon Procter
Production Assistant: Noni
Technical Support: Geoff Tanner
Mastered by Stephan Galfas and Ian Cooper at: Metropolis, Chiswick, London, England.
Mixed by Stephan Galfas and James Brown at Master Rock Studios.
Released 1994 by the Edel Company.

---
Lyrics
---

Moment Of Truth (Overture)

---


	[Instrumental]

(Louis Clark)

---

Breakin' Down The Walls

---

	Talk is cheap, but it can't pay
	For all the hurt you threw my way
	Oh, no - Oh, no
	
	Love is blind but I can see
	You're trying to make a fool of me
	I know - I know

	Sometimes I feel just like I'm running on ice
	I might slip and slide girl
	But you won't hurt me twice, oh no

		CHORUS
		No matter what you say
		You'll never stop me
		Breaking down the walls around your heart
		No matter what you do
		You just can't stop me
		Breaking down the walls around your heart

	Love is passion, love is pain
	The heat is on, we're all insane
	I know, I know

	Life is bitter, life is sweet
	You just can't ever admit defeat
	Oh, no - oh, no

	Sometimes it feels like we've been fighting too long
	It can't be right to make me feel so wrong - oh, no

		CHORUS

	Did you ever feel like superman
	got the world in your hands
	But you never can
	Seem to break down the walls

	Did you ever feel like a drowning man
	Got your life in your hands
	But you never can
	Seem to break down the walls

	Sometimes it feels just like I'm running on ice
	I might slip and slide girl
	But you won't hurt me twice - oh, no

		CHORUS

(Phil Bates)

---

Power Of The Million Lights

---

	I hear your voice close on the phone
	But I know you're far away
	I've waited so long to talk to you
	But now I can't find the words to say
	So I sit and I listen to you
	Breathe on the open line
	I can almost taste your lips
	And touch your hair
	It's like intoxicating wine
	I can almost see your face
	Through the miles and miles of space

		CHORUS
		I can feel the power of a million lights
		When I see your eyes burn bright
		I can see the sparks of a million volts
		When you touch me through the night
		I can feel the heat across a million miles
		When you voice comes through the line
		I can feel the power of a million lights
		Come through the satellite

	Although these oceans hold us apart
	Where there's a will there's a way
	I'm going to reach across the miles of sea
	No matter what they say
	So close your eyes and I'll be there
	There's magic in the sky tonight
	When you see the lightning flash around the world
	It's the power of a million lights
	Until I see your face
	Through the miles and miles of space

		CHORUS
		
	Somewhere over the atmosphere
	The signals are crossed
	Now you're not so clear
	The power is out and the lights are down
	My head is spinning
	Round and round and round and round and round

	You know I need you more tonight
	By the power of a million lights

(Eric Troyer)

---

Interlude 3

---

	[Instrumental}

(Louis Clark)

---

One More Tomorrow

---

	I'm lying here, I know the night must fall
	The edge of darkness is so near
	So hold back the night, hold back the night
	It's the darkness that I fear

	And in my heart there's not a shadow of a doubt
	The final truth waits there fore me
	Nowhere to hide, nowhere to hide
	From the memories

		CHORUS
		Give me one more tomorrow
		All these todays alone
		Mean nothing anymore
		Give me one more tomorrow
		Another chance to find
		What I've been searching for

	Inner voices in the quiet of the night
	Angry silence calls to me
	There's no time for tears, no time for tears
	Find a way to break free

		CHORUS

	I'm praying for a little piece of heaven tonight
	I'm searching for some help from a friend
	And all I need is a miracle
	To help me through this night that never ends, it never ends

		CHORUS TWICE

(Bev Bevan, Mik Kaminski, Phil Bates)

---

Don't Wanna

---

	Don't want to talk, don't want to walk
	Don't want to do anything
	Don't want to kick, don't want to scream
	Don't want to sleep, don't want to dream
	Just want to sit, just want to stare
	Do what you want I don't care
	Wait for the phone, wait for the ring
	Don't want to do anything

		CHORUS

	Don't want to work, don't want to play
	Just sit around everyday
	Don't want to dance, don't want to sing
	Don't want to do anything
	Don't want to laugh, don't want to cry
	Just want to sit and wonder why
	It's just too much without your touch
	Don't want to do anything

		CHORUS

(Eric Troyer)

---

Voices

---

	World's going through some changes
	I see so many things that
	I don't understand

	And people - have got to feel the power
	We got to take our lives back
	Into our own hands

	This is no time for silence
	We got to be stronger
	We can't live with the violence
	We can't live with the fear

		CHORUS
		Voices - I wanna hear them calling
		From the highest mountain
		Over land and sea
		Voices - I wanna hear them calling
		Hear the sound of freedom
		Calling out to me

	Life - just turns in a circle
	If we look for solutions
	In the mistakes of the past

	And now - we got to look to the future
	We got to find the answers
	We got to find them fast

	So put the wheels in motion
	If you wanna make changes
	Out across the ocean
	Let your words ring out

		CHORUS

(Phil Bates, Mik Kaminski)

---

Interlude 2

---

	[Instrumental]

(Louis Clark)

---

Vixen

---

	[Instrumental]


---

The Fox

---

	I wait till everyone's asleep
	Then out into the night I creep
	No one can see me now
	Or hear me running, soundlessly

	The moon's the only light I need
	To search for food, young ones to feed
	But as the dawn is drawing near the earth, my way's not clear
	I'm trapped on the outside

	Moonlight save me, moonlight save me
	Moonlight save me, moonlight save me

	Unearthly fear, it grips my skin
	Unearthly sound, the hunt begins
	I hear excited cries
	But dare not look from where I'm hiding

	The multi-coloured humans ride
	Soon they will find me where I hide
	The brown and white tormentors
	Begin to howl and then I'm running

	Moonlight save me

	I cut across the trail I left five miles before
	One chance to throw them off my scent but I'm not sure
	An elder told me it had worked sometime before

	My heart is beating like a drum
	I make the ridge, but can't go on
	I turn to face my death
	But nothing comes to stop me breathing

	Down in the clearing now I see
	They're searching all around for me
	Confusion everywhere
	But I am safe up here, I've won, I've won, I've won, I've won, I've won

(Kelly Groucutt)

---

Love Or Money

---

	Just don't look, no matter what they say
	Don't let her get to you, make her go away
	But you're only human
	And the best laid plans of men go astray
	So all your good sense
	Goes out the door
	When you see that girl walk across the floor
	Too late you've seen her
	You've had a glimpse of paradise

		CHORUS
		You never want to have to choose
		Is it love or money now
		Even if you win you lose
		Is it love or money now

	I'll close my eyes, I don't want to see you
	Just go ahead say what you will
	And I'll agree
	I don't want illusions
	Don't want confusions anymore

		CHORUS

	Is it love or money, I said love or money
	That can make your dreams come true
	I know it sounds so funny
	But it's always love or money
	That makes you do the crazy things that you do

		CHORUS

(Eric Troyer, Phil Bates)

---

Blue Violin

---

	Blue violin
	Play for me your saddest melody
	Violin
	Play for me your saddest melody

(Kelly Groucutt, Mik Kaminski)

---

Whiskey Girls

---

	Long hair, flashing eyes
	The kind of hips that make you fantasize
	A slow smile, just meant to tease
	One look and you'll be weak at the knees
	They got my head in a whirl
	'Cos I can't get enough of those whiskey girls

	They got the world at their fingertips
	With just a look and lick of the lips
	They understand the rhythm of the night
	I'm in a daze, I don't know wrong from right
	They got my head in a whirl
	'Cos I can't get enough of those whiskey girls

		CHORUS
		Hypnotised - by the whiskey girls
		Compromised - out of this world
		Lord above, could this be love
		Ain't no doubt about it
		I'm crazy about the whiskey girls

	Whiskey girls are out on the town
	They'll break your heart, they'll bring you down
	Whiskey girls are out of control
	For just one touch you'd sell your soul

	The moon is high I'm getting out of the line
	Whishful thinking with a one track mind
	I'm having flashes, oh can't you see
	they're walking through my private fantasy
	Wearing only a necklace of pearls
	Those slow walking, long-legged whiskey girls

		CHORUS TWICE

(Bev Bevan, Phil Bates)

---

Interlude 1

---

	[Instrumental]

(Louis Clark)

---

Twist Of The Knife

---

	Lipstick traces on an unmade bed
	We drank all night and got devils in our head
	She said some things that should have stayed unsaid
	Emotions overflowing
	Now I don't know what to believe
	Sitting here in the cold light of the day

	She felt anger, I felt pain
	I walked out into the pouring rain
	Packed my bags and took the midnight train
	Didn't care where it was going
	On my way, running like a thief
	Hard to leave, but harder to stay
	
	There's no wrong, there's no right
	But sometimes she breaks all the rules
	And lying here alone tonight
	Can't believe love can be so cruel
	
	Wish I'd believed her
	'Cos now I need her
	Sometimes the truth just hurts too much

	She goes straight to the heart
	With a truth that always finds me
	She goes straight to the heart
	And pulls tight the ties that bind me
	She can be so cold, and it tears me apart
	When she twists the knife
	It goes straight to the heart
	
	Sometimes love is an endless fight
	It's never simple, never black and white
	Just like ships passing in the night
	Who knows where they're going
	No forgiveness, no reprieve
	Both sailing their separate ways

	Light of day, dead of night
	I'm searching for what I can't find
	Try and try as I might
	I can't get her out of my mind

	Wish I'd believed her
	'Cos now I need her
	I guess we all must love and learn
	She goes straight to heart
	With a truth that always finds me
	She goes straight to the heart
	And pulls tight the ties that bind me
	She can be cold, and it tears me apart
	When she twists the knife
	It goes straight to the heart

(Kelly Groucutt, Bev Bevan, Phil Bates)

---

So Glad You Said Goodbye

---

	Stepping out of the shadows
	I'm blinded by the light
	there'll be no more wasted days
	No more sleepless nights
	
	Stepping out of your shadow
	I finally see the light
	No more mister nice guy
	I'm ready for the fight
	Weight off my shoulders
	No more tears to cry
	The chains are broken now
	I see through your disguise

		CHORUS 1
		I'm so glad you're gone
		So glad you said goodbye
		I'm so glad you're gone
		So glad you said goodbye
		Do you really think I'd just lay down and die

	No infatuation
	I don't believe your lies
	I can see clearly now
	The truth behind your eyes
	Weight off my shoulders
	No more tears to cry
	The chains are broken
	I see through your disguise

		CHORUS 2
		I'm so glad you're gone
		So glad you said goodbye
		I'm so glad you're gone
		So glad you said goodbye
		No more angry words, no chance for you to lie
		Did you really think I'd just lay down and die	

	Passion fades away
	Love can turn to hate
	And all the words I want to say
	Are left in the hands of fate

		CHORUS 2

(Bev Bevan, Eric Troyer, Phil Bates)

---

Underture

---

	[Instrumental]

(Louis Clark)

---

The Leaving

---

	[Instrumental]

---
Home | Diskografie | Galerie | FOTO
ELO PART II | ELO's Greatest Hits Live | Moment Of Truth | One Night Live In Australia
---